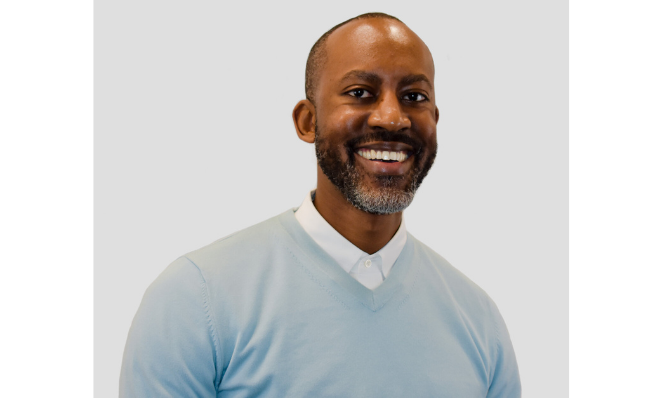 January 9, 2020
Introducing Jabari Sims, Executive Director of District Partnerships
We are thrilled to announce that Jabari Sims is joining our team as Executive Director of District Partnerships. Jabari started his career in education in Texas as a teacher at Bonham Elementary School. He most recently served as the founding dean of the Relay Graduate School of Education in Dallas, TX. As dean, Jabari led coaching and district support for teachers, while creating and maintaining significant partnerships with districts across the Dallas-Fort Worth area.
As Executive Director, Jabari will manage our District Partnerships team to deliver excellent instructional support to our partners. Jabari's passion for this role comes in part from his own small-town schooling experience in Houma, Louisiana, and he is  excited to bring our small district partners the kind of instruction and student engagement that can make a real difference for students and their families.
Over the next few months, he will spend a significant amount of time visiting our schools to get to know our partners and see our support in action. So, be sure to say hello if you see him in your building this semester!
You can learn more about Jabari below.
Tell us about yourself! What were you doing before Instruction Partners?
I'm a native of Houma, Louisiana, and started my career in education as a 3rd and 4th grade teacher in Houston, Texas. I eventually moved to New York City, where I taught and served in several school leadership positions. During my time teaching in the Bronx, my 4th grade students earned the highest test scores in the state and were featured in the New York Daily News. Additionally, I was the founding principal at Achievement First Apollo Elementary. As a school principal, I witnessed how teacher development  impacted student outcomes.

Most recently, as the founding dean of education at Relay Graduate School of Education, I oversaw the Dallas-Fort Worth Metroplex's growing teacher preparation program.

I earned my B.A. in English from Dillard University, as well as an M.Ed. in Education Administration from National Louis University. I'm currently a doctoral student at Vanderbilt University, where I'm pursuing an Ed.D. in Educational Leadership and Learning in Organizations.

Outside of work, I enjoy traveling internationally and experiencing new cultures as well as binge-watching the latest television shows.

What makes you passionate about education?
I am passionate because I know the leaders of the past are dependent upon us to shape a better future for our students. I am the product of two first-generation college graduates, and my parents showed me early on how education has the ability to change life outcomes. As an educator of almost 20 years, I have seen how my personal values of high expectations, love, and justice fuel me to continue to work to ensure every student receives a great education. This is the same message I have shared with my students—both K-12 students and adult learners.  I love when my former students find me on social media and share how my mix of warmth and demanding expectations inspired positive outcomes.

What makes you most excited about your new role?
I am most excited about working in partnership and collaborating with others. In my role, I get to meet other educators across the country that are excited about teacher development and student learning. I want to share what I've learned over my years in education and continue to learn from new experiences with our partners.

Every person that I've met at Instruction Partners has shown a deep passion for quality instruction and is working to ensure we live up to the promise of a great education for every student in our country. I'm excited to get on the road and "nerd out" on instruction!