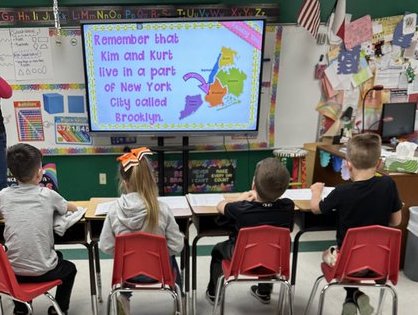 May 9, 2023
Creating a continuum of support for early literacy instruction
Instruction Partners partnered with Deans for Impact to reflect on the importance of fostering a continuum of support for pre-service and in-service teachers to enact evidence-based early literacy instruction. Read more about pre-service support on the Deans for Impact blog.
---

We know that students need targeted and affirming reading instruction that supports them to both decode and comprehend text. But what do teachers need to be prepared to deliver this type of instruction? 
A growing number of states, districts, and schools are adopting research-based early literacy curricula, representing a positive move toward expanding equitable access to effective reading instruction. However, implementing new materials that require an entirely new approach to teaching children to read is easier said than done. It's made all the more challenging by the fact that many educators were not prepared to teach this way in their teacher preparation programs. Policymakers often point to on-the-job training as the path to getting teachers up to speed on the science of reading; however, school and district leaders are rarely offered guidance on how to help teachers build necessary content and pedagogical knowledge. 
These compounding challenges raise the question: What would it take to ensure that all pre-service teachers are adequately prepared to implement research-based foundational reading instruction and that all in-service teachers have access to ongoing, effective professional learning to continually improve their practice?
To consider that question, Instruction Partners teamed up with Deans for Impact (DFI), a national organization that brings together ed-prep leaders who want to transform their programs to better align with research-based best practices. With the support of the T.L.L. Temple Foundation, the two organizations are working to improve early literacy in East Texas: Instruction Partners works with local schools while DFI partners with neighboring ed-prep faculty.
To better align the early literacy work happening in East Texas schools and ed-prep programs, DFI and their faculty partners visited one of Instruction Partners' local partner schools: West Sabine Elementary. 
Seeing early literacy instruction in action
In February 2023, DFI's faculty partners had the opportunity to observe West Sabine Elementary teachers enacting best practices in early literacy instruction as they supported students in decoding  and comprehending text. 
For example, in one 2nd grade classroom, students read a story about Brooklyn, NY as they worked on spelling patterns for the different pronunciations of "y" and sounded out new words using syllabication rules they had previously learned for decoding. Throughout the lesson, the teacher applied foundational skills concepts as she supported students in decoding words within the context of a cohesive story that also built their background knowledge and word comprehension. 
During the visit, faculty learned the West Sabine teachers had not worked with a systematic, explicit foundational skills program prior to this school year. The observed instructional moves were the result of just six months of in-service learning that prepared teachers to deliver an early literacy curriculum grounded in a research-based understanding of how students learn.
Six months of in-service support: Transforming reading instruction in West Sabine ISD 
At the end of the 2021–22 school year—eight months before the DFI faculty visit—leaders in West Sabine ISD knew that they needed to change their approach to K–2 reading instruction. Educators were working tirelessly to teach students to read at grade-level proficiency after years of disrupted schooling, but they were seeing little progress. The district's leadership team enlisted Instruction Partners to help transform their early literacy system to support systematic, explicit foundational skills instruction. 
Building off of the state's HB 3 Reading Academies, West Sabine educators began their early literacy transformation with a summer PD day focused on the science of reading. Once teachers dug into research-based practices and materials, they were eager to get started with a new program right away. "The teachers were asking us, 'Why wouldn't we use this every day if kids need this?'" recalls Maggie Wertz, senior content lead at Instruction Partners. "They insisted, 'We can do this. Let's make it happen.'"
With the support of teachers, leaders at West Sabine Elementary School made the decision to implement Amplify Texas, an evidence-based literacy curriculum developed in partnership with the Texas Education Agency. Instruction Partners and the school leadership team then set out to create a plan to provide teachers with the ongoing professional learning they needed to internalize and teach the newly adopted materials.
"
This is my first year as an assistant principal. When my Instruction Partners coach told me I needed to lead instructional meetings, at first I panicked. But she really helped me prepare, stay on track, and stay motivated.
Explicit foundational skills instruction was new not only to the teachers but to Assistant Principal Brittany Hall, the instructional leader tasked with supporting them in this work. "This is my first year as an assistant principal," says Ms. Hall. "When my Instruction Partners coach told me I needed to lead instructional meetings, at first I panicked. But she really helped me prepare, stay on track, and stay motivated." 
The Instruction Partners team recommended that Ms. Hall put in place weekly collaborative learning time for teachers, helped her prepare agendas and protocols for the meetings, and then provided actionable feedback on her facilitation. 
The collaborative learning time gave teachers the opportunity to understand the intended outcomes of upcoming lessons, discuss particularly challenging teaching moves, and anticipate where students might need additional support.
Ms. Hall reflects, "It's really fun for the teachers to share what works in their room and get up and model a teaching move for their peers. No two meetings look the same; it's focused on what's needed at that time. Teachers build off of each other, and we're learning as we go."
Continuing the work
Following the classroom observations with DFI, faculty participated in focus groups with West Sabine teachers and instructional leaders in which teachers described the impact of collaborative learning and their excitement for continued growth:

"Our collaborative planning meetings make you sit down and focus on what's coming and help improve what you need to do from the script of the lesson."
"I'm excited to see what happens with the kids that started with Amplify Texas in kindergarten. We didn't start the year teaching with integrity, but I am confident that in the next year we will be doing it well!"
The faculty members left the visit impressed by the teachers' in-service development and motivated to continue adjusting early literacy ed-prep courses to focus on systematic, explicit foundational skills instruction.
The experience "reinforced critical urgency and responsibility we have as teacher-educators to continue to be lifelong learners ourselves," reflects Lauren Burrow, associate professor at Stephen F. Austin State University (SFASU). SFASU Assistant Professor Ronda McClain shares, "We want to put forward candidates who have confidence that they have a solid understanding of foundational skills instruction so that they can keep their heads above water with the instruction piece, while juggling the thousand other things that come with being a first-year teacher."
Instruction Partners and DFI are committed to supporting both sides of the reading instruction continuum—from pre-service preparation to in-service PL. Next school year, Instruction Partners will partner with three or four additional districts to help local school leaders make broad changes in curriculum, assessment, and teacher support. The team will continue to share new learning about what it takes to meaningfully improve early literacy and is excited to chart a course for scaling instructional leadership support for early literacy across Texas. 
Instruction Partners and DFI look forward to more opportunities to learn and work together so that every child can become a confident and proficient reader.
---
Deans for Impact team members Rebekah Berlin, Cece Zhou, and Muriel Smith contributed to this piece.