Ready to adopt or implement HQIM? The TEA Strong Foundations grants can help.
High-quality instructional materials (HQIM) are a powerful tool for supporting teachers and improving student learning, but—without the right support—materials can cause more confusion than improvement. 
That's why we're excited to be an approved provider for TEA's Strong Foundations Planning and Strong Foundations Implementation grants, which provide LEAs with much-needed funding to help ensure that teachers and students get the most out of their HQIM.

Learn more about how you can access funding and partner with our team to support this work below. 
Act fast—grant applications close December 7th!
Partnering with the Instruction Partners team
Instruction Partners is a nonprofit organization with deep experience supporting Texas districts and charters of all sizes throughout their HQIM journey. From forming and facilitating a selection committee to making the big decisions that come after adoption, including expectations for use, teacher training and ongoing support, and assessments, we work with education leaders every step of the way.
As a TEA approved provider, we supported the work of Katy ISD and Grand Prairie ISD last year (SY 2022–23). This year, we're partnering with Newton ISD and EdCouch Elsa.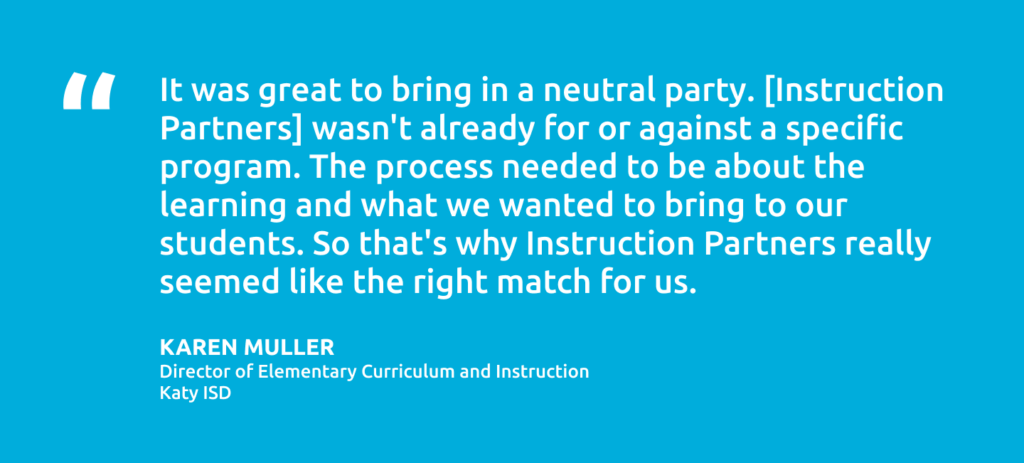 The deadline is approaching! Apply by December 7.
We know that navigating grant applications can be a confusing and time-consuming process. Due to the time sensitive nature of this grant, Instruction Partners is dedicated to helping schools make the most of this opportunity by raising awareness and offering resources that support the funding application process. 
Check out our handy overview of LASO and Strong Foundations here. It's full of useful answers to FAQs, advice on filling out the application, and links to helpful items for TEA. 
Want to learn more about how we can partner with you to support HQIM?
Complete the form below and a team member will be in touch soon!