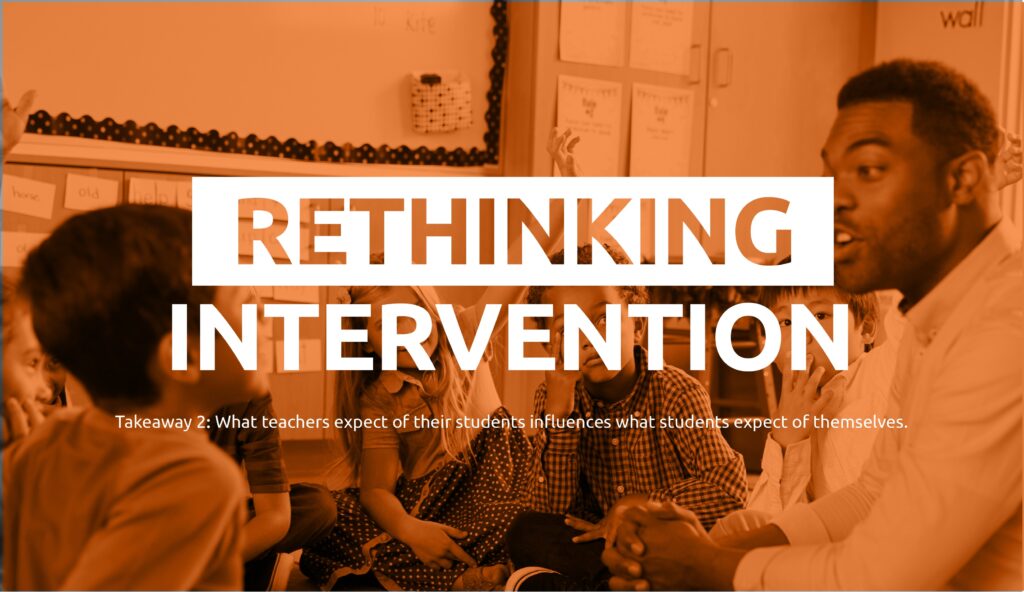 February 12, 2021
Teacher and Student Expectations
In spring 2020, Instruction Partners launched the Rethinking Intervention project—a series of conversations with education leaders, researchers, and practitioners—in order to think deeply about what drives and challenges intervention and how we can accelerate student learning after many months away from school. 
Our second big takeaway from the series: What teachers expect of their students influences what students expect of themselves.
Watch the video, then explore the resources below to support conversations in faculty meetings, PLCs, or cabinet discussions. You can also read CEO Emily Freitag's reflections on this takeaway here.
Each week, we'll release a new video focused on one of the takeaways from the Rethinking Intervention series. Join the #RethinkingIntervention mailing list to have the latest video delivered to your inbox as it's released.
Join the list
Download the full Reflection and Discussion Guide here. 
Review the lessons learned from Takeaway 2 
Potential is not fixed or knowable in advance.

What we are asked to do changes what we are capable of doing. 

Students take cues about their potential as learners from their teacher's actions and words.

Even when it is not intentional, lowered expectations are internalized by students as indications of their value and their potential to learn.

We all carry assumptions or biases about dissimilar groups, but these assumptions do not have to govern our interactions.

In order to see and change the way bias plays out in our actions, we must create brave spaces to reflect on and talk about the factors that shape our expectations.
Reflect and discuss 
After watching the video, answer these questions on your own or in a learning group. 
Reflecting on your career as a student, did you have a teacher who positively or negatively influenced what you believed yourself to be capable of? Who was that person, and how did they influence your self-perception?

Can you think of a time in your education career when you lowered expectations for your students? What were the circumstances surrounding your decision? Would you make that same decision again?

Particularly given the challenges students face with COVID, what assumptions might be affecting your expectations for your students? Do you currently have a safe and brave space to notice these assumptions or biases? When you

do

notice these assumptions, what would it look like to interrupt them?
Dive deeper with these resources
Take action 
As leaders think about how to use time, energy, and money wisely, here are some actions this takeaway points toward:
Invest in creating a culture that makes it both safe to talk about where expectations may slip and commits to dismantling those patterns. Model this commitment through self-work.

Make sure every student has access to on–grade level instruction supported by quality materials.

Provide professional learning for teachers on the impact of expectations and incorporate into ongoing structures (e.g., PLCs) the work of noticing biases and interrupting the impact.

In the staffing model and schedule, support time for principals and coaches to observe instruction with attention to expectations for students, particularly students who have been historically marginalized.