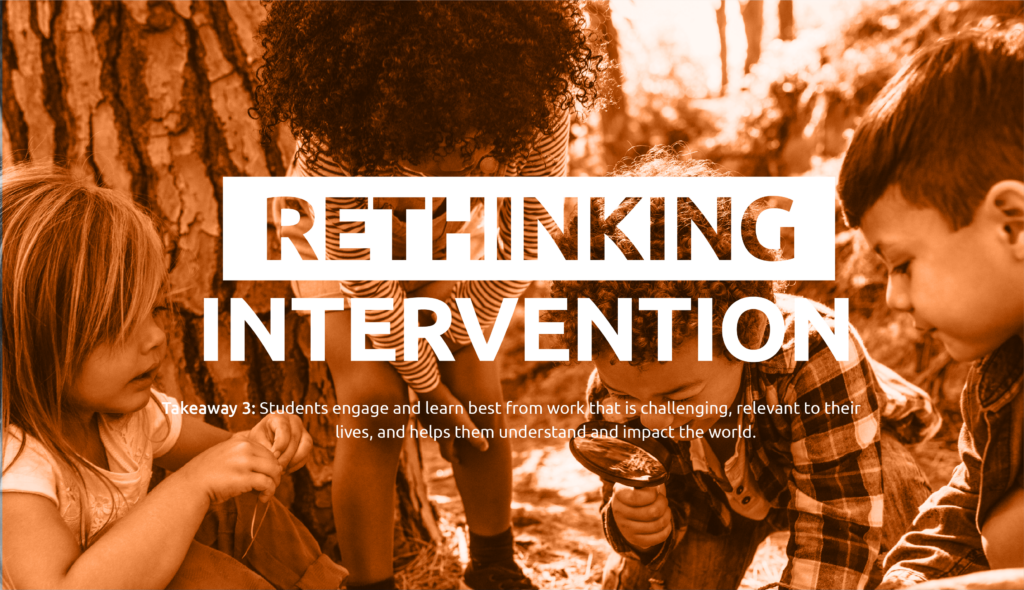 February 19, 2021
Challenging Content
In spring 2020, Instruction Partners launched the Rethinking Intervention project—a series of conversations with education leaders, researchers, and practitioners—in order to think deeply about what drives and challenges intervention and how we can accelerate student learning after many months away from school. 
Our third big takeaway from the series: Students engage and learn best from work that is challenging, relevant to their lives, and helps them understand and impact the world.
Watch the video, then explore the resources below to support conversations in faculty meetings, PLCs, or cabinet discussions. You can also read CEO Emily Freitag's reflections on this takeaway here.
Each week, we'll release a new video focused on one of the takeaways from the Rethinking Intervention series. Join the #RethinkingIntervention mailing list to have the latest video delivered to your inbox as it's released.
Join the list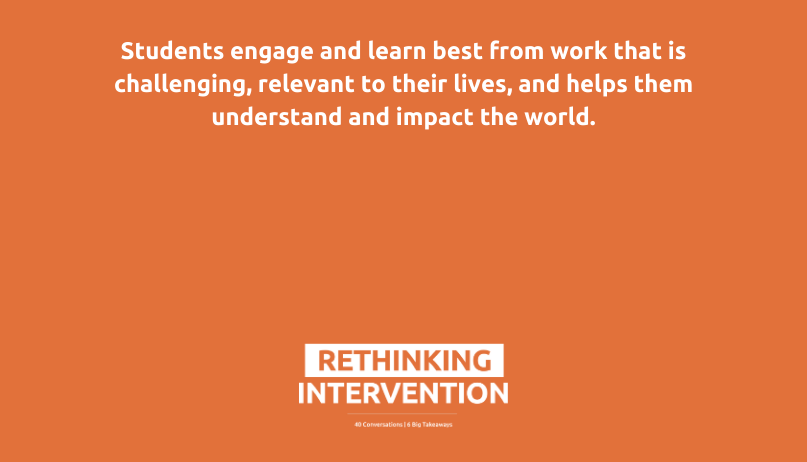 Download the full Reflection and Discussion Guide here. 
Review the lessons learned from Takeaway 3 
Content needs to both equip students with a knowledge of the world and prepare them to change the world. 

Content needs to build a common base of knowledge in a way that broadens students' understanding of a diverse world and also honors students' unique identities and stories.

Content needs to give students foundational knowledge to allow them to engage while also allowing students to persist through novel challenges.
Reflect and discuss 
After watching the video, answer these questions on your own or in a learning group. 
Looking back on your education journey:

What content challenged you? 

What content felt most relevant to your life and your ambitions? 

What content built your knowledge of something that might not have been interesting to you at first?

What content best prepared you to lead and change the world?

How do you feel about the content that students engage with in your classroom/school(s)?

What content is challenging? What is not? 

What content is relevant to your student's identity and ambitions? What is not?

What content is building student knowledge of the world beyond their immediate surroundings? 

Where is necessary foundational knowledge being attended to equitably? Where is it not?

In 20 years, when your students look back on their education journey, what will they feel their education prepared them to do? What gaps will they point to? What can you do about those gaps right now?
Dive deeper with these resources
Take action 
As leaders think about how to use time, energy, and money wisely, here are some actions this takeaway points toward:
Create a vision of effective instruction that includes challenge, relevance, and knowledge-building. Give feedback to teachers on whether instruction meets that vision.

Make sure teachers have a solid set of materials they can use as the starting point and a lot of support as they learn to use those materials well.

Make sure materials provide both windows and mirrors, building understanding of a broader world and making sure students see themselves in what they are learning.

Attend to the role that knowledge plays, particularly in reading. Be suspicious of skills-only literacy instruction, and think about the role of knowledge in core instruction and in intervention.

Examine course offerings for challenge and for relevance to career pathways. Find ways to give students access to courses virtually that cannot be able to offer locally.