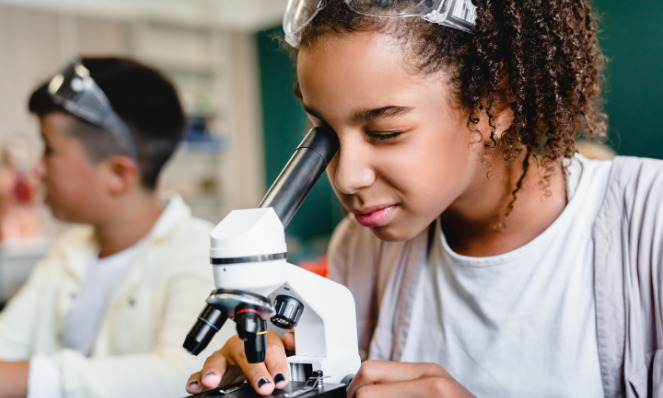 April 17, 2023
How a first-year science coach supported meaningful instructional growth
Fannie C. Williams is a PreK–8 charter school in New Orleans, Louisiana. The school leaders adopted Amplify Science during the 2019–20 school year to relieve teachers from the burden of finding and creating their own science resources, while also ensuring that classroom materials met the rigor of state standards. To support the curriculum adoption and implementation process after a year of virtual learning, Arriane Jones transitioned from her previous role teaching 4th- and 5th-grade science to become the school's first instructional coach responsible for supporting K–8 science instruction. 
The leadership team tasked Mrs. Jones with helping teachers build the content and pedagogical knowledge needed to effectively implement the new curriculum. "In the beginning, it was very overwhelming," she recalls. "The whole idea of phenomena-driven science instruction was completely new to us." 
The Instruction Partners team partnered with Mrs. Jones at the start of the 2021–22 school year to help build her capacity to provide the professional learning teachers needed to implement the newly adopted materials and deliver excellent science instruction to all students.
Collecting evidence and creating a plan 
At the start of their work together, Mrs. Jones and the Instruction Partners team conducted classroom walkthroughs to gain a baseline understanding of the state of science instruction schoolwide. Using the Science Classroom Observation Tool, the team found that lessons were missing two essential indicators of excellent science instruction: 
A phenomenon

or problem intended to help students make sense of the world drives the lesson.

Tasks integrate grade-appropriate elements of the three dimensions of the standards. 
To address these opportunities for growth, Mrs. Jones and the Instruction Partners team created a plan for providing teachers with the professional learning they needed to leverage their high-quality curriculum and deliver phenomena-driven lessons that integrate the three dimensions of the standards (DCIs, SEPs, and CCCs).
Coaching towards a common vision
As a first step towards improvement, Mrs. Jones worked to strengthen one-on-one teacher coaching meetings by grounding coaching conversations in a vision for excellent science instruction. She met with science teachers at the start of the school year to establish what they wanted to be true about science instruction, which resulted in the creation of their vision statement:
In our science classrooms, we strive to build critical thinkers, problem solvers, and collaborators that can understand and interpret the natural systems of the world around them. Science is driven by inquiry/exploration, discussion, engagement, fun, structure, and reasoning and is much more than the memorization of scientists, theories, and formulas.
Instruction Partners helped Mrs. Jones bring this vision to life by developing a template to organize weekly coaching sessions. The template incorporated the new vision by asking teachers to celebrate elements of the vision that were strong in their classrooms, as well as reflect on elements of the vision that were missing or needed support. 
The team also supported Mrs. Jones's use of the new template by observing and providing feedback on her initial coaching sessions. Reflecting on the impact of this coach-the-coach structure, Mrs. Jones describes how she uses her Instruction Partners coach "as a sounding board to bounce ideas off of, whether it's about a certain document to use or a certain question to ask in teacher coaching conversations." She shares, "I really feel like that relationship made me into the coach I am today."
Streamlining unit internalization 
To teach high-quality science materials effectively, teachers must ask questions and prioritize tasks that help students explain the phenomenon of the lesson. These types of instructional decisions require a deep understanding and internalization of the overall themes and connections across the curriculum.
Although the science teachers rallied around a common vision and were enthusiastic about a new curriculum, ongoing coaching conversations and classroom walkthroughs revealed that they had not yet fully internalized the materials.
Mrs. Jones and the Instruction Partners team took a step back to consider how to better support teachers in internalizing units to bring the curriculum materials to life. Initially, she asked teachers to complete a detailed internalization document for each unit. After observing and speaking with the teachers about the protocol, however, the team discovered that the document felt overwhelming and disconnected from the curriculum. As a result, the practice of internalization felt like a compliance exercise rather than a chance to deepen understanding.
Excerpt from original internalization document: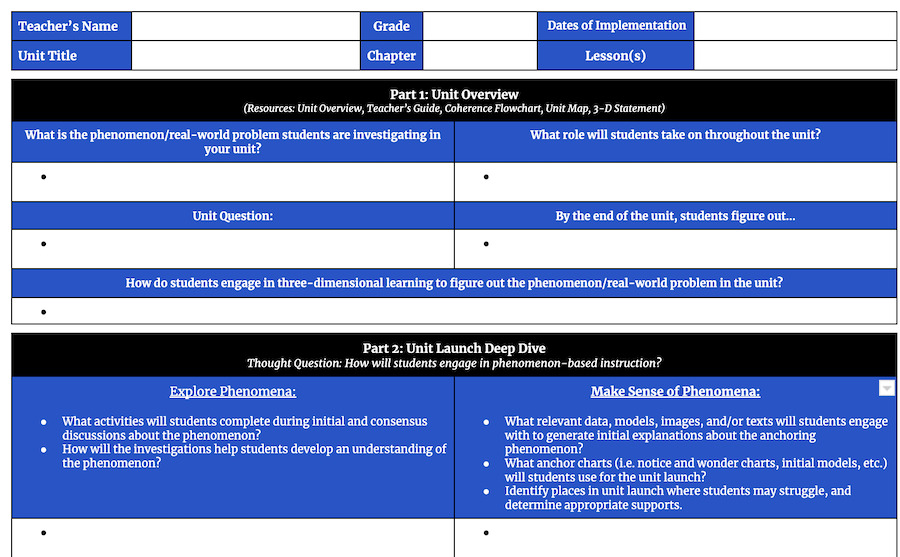 Mrs. Jones and Instruction Partners rebuilt the unit internalization protocol to make it both practical and integrated with curricular materials. To begin this process, the team took stock of the curriculum-provided support resources. "We wanted to make sure that we were utilizing every resource that we could to support the materials." Mrs. Jones shares. "The support resources are there for a reason."
After noting that teachers relied on curriculum-supplied slide decks for lesson preparation, the team integrated the new internalization protocol with the lesson decks by adding internalization questions directly into the slide resources for each lesson and activity."
Excerpt from revised internalization protocol: 
Internalization questions for each lesson:

Identify the 3D statement for this lesson (find in lesson overview document) 

Based on the 3D statement for this lesson,

What content are students learning (DCI)? 

What are students doing in this lesson (SEP)? 

What lens are students using to reason with the content (CCC)? 

 

What are the investigative phenomena that students are figuring out in this lesson (coherence flowchart)?

How does the lesson phenomena connect to the chapter and unit phenomena?
Internalization questions for each activity:

Summarize what students are doing in this activity.

How does this activity help students explain the investigative phenomena of the lesson? 

What will you do as the teacher to support students in making the connection to the lesson phenomena?
Mrs. Jones introduced the new slide deck protocol to her teachers during a PLC meeting, then followed up by supporting internalization during one-on-one coaching conversations. She recalls, "When I first presented the new protocol to the teachers, it was like a breath of fresh air. You no longer have to refer back to a five-page internalization document as you're teaching. You're putting your thoughts on what you're actually going to use while you're teaching, and it's going to become like second nature." 
During initial coaching sessions, she walked through the questions alongside teachers, looking at lessons for the upcoming week and answering the questions together. Over time, teachers transitioned to completing the internalization questions on their own, with Mrs. Jones available for support and feedback.
Observing impact 
The new internalization protocol, bolstered by ongoing coaching, enabled teachers to prepare for and deliver phenomena-driven lessons, which translated to growth in classroom observation data. Between fall 2021 and fall 2022, phenomena-driven lessons increased by 100% during classroom walkthroughs, and the observed tasks integrated grade-appropriate elements of all three dimensions of the standards. These instructional changes resulted in improvements in both standards alignment and student mastery, as measured by the Science Classroom Observation Tool. 
Reflecting on the impact of this growth on students' learning experience, Mrs. Jones shares, "Once we were able to help students understand the phenomenon and its related storyline, everything flowed better. There's no more jumping around from worksheet to video, and the students have embraced the structured curriculum."
Looking ahead 
Mrs. Jones will continue working with Instruction Partners to progress monitor and adjust professional learning to meet the needs of teachers and students. For example, recent classroom observations revealed an opportunity for teachers to identify cross-cutting concepts and facilitate student-led discussions about the phenomena. Mrs. Jones is taking action to enable teachers to make these instructional moves. Leadership actions include: 
Leading a PLC with science teachers focused on discussion strategies aligned with the curriculum

Shifting coaching protocols to add time to identify cross-cutting concepts and opportunities for discussion within each lesson within the curriculum

Adding discussion questions to slide deck internalization protocol 

Adjusting the classroom observation tool to include checklists of discussion and cross-cutting concepts "look-fors"
While short-term improvements are encouraging, Mrs. Jones is most excited about the potential long-term impact of these changes. "Hopefully, when we pick up next school year, we'll be able to say, 'Remember that we worked on these discussion strategies and cross-cutting concepts,' and see teachers implementing these strategies with their students as soon as school starts," she says.
---
Resources to help
Instruction Partners offers free guidance and tools for leaders looking to strengthen professional learning and science instruction across their school, system, or state. Explore the free resources below and feel free to reach out with any questions. 
Solidify: An interactive workbook for science leaders seeking to deepen their understanding of the instructional shifts characterizing excellent science teaching and learning
Professional Learning Conditions and Practices: Detailed action plans, rubrics, and guidance to help leaders strengthen two essential PL structures: 1) collaborative planning and 2) observation and feedback
Rethinking Intervention x Science: A video compilation of takeaways from conversations with science researchers and leaders