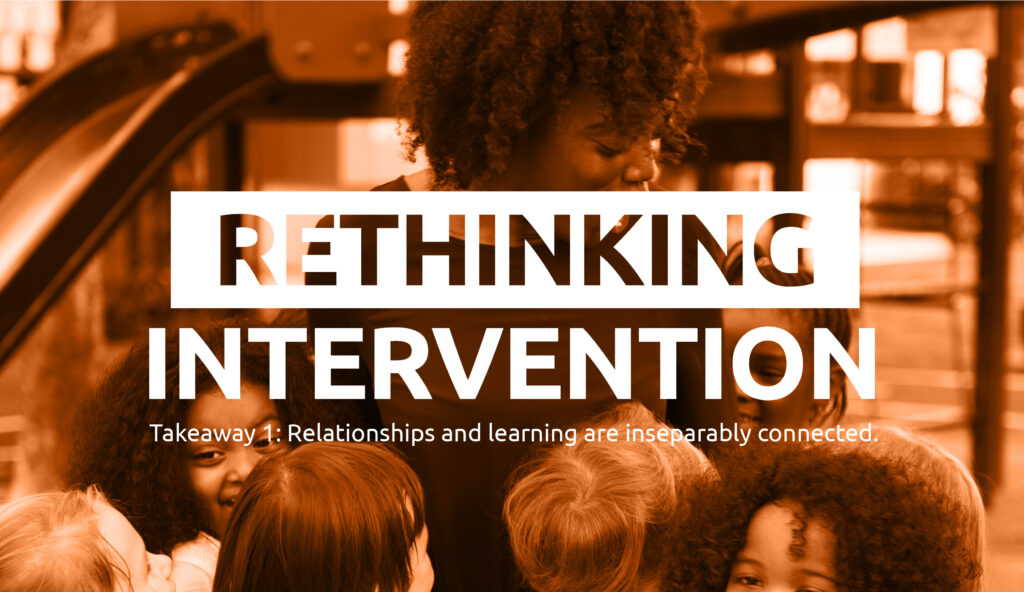 February 8, 2021
Relationships and Learning
Relationships and learning are inseparably connected
By Emily Freitag
This post is adapted from an email originally shared on February 5, 2021. If you would like to receive future emails from Emily Freitag, you can sign up here.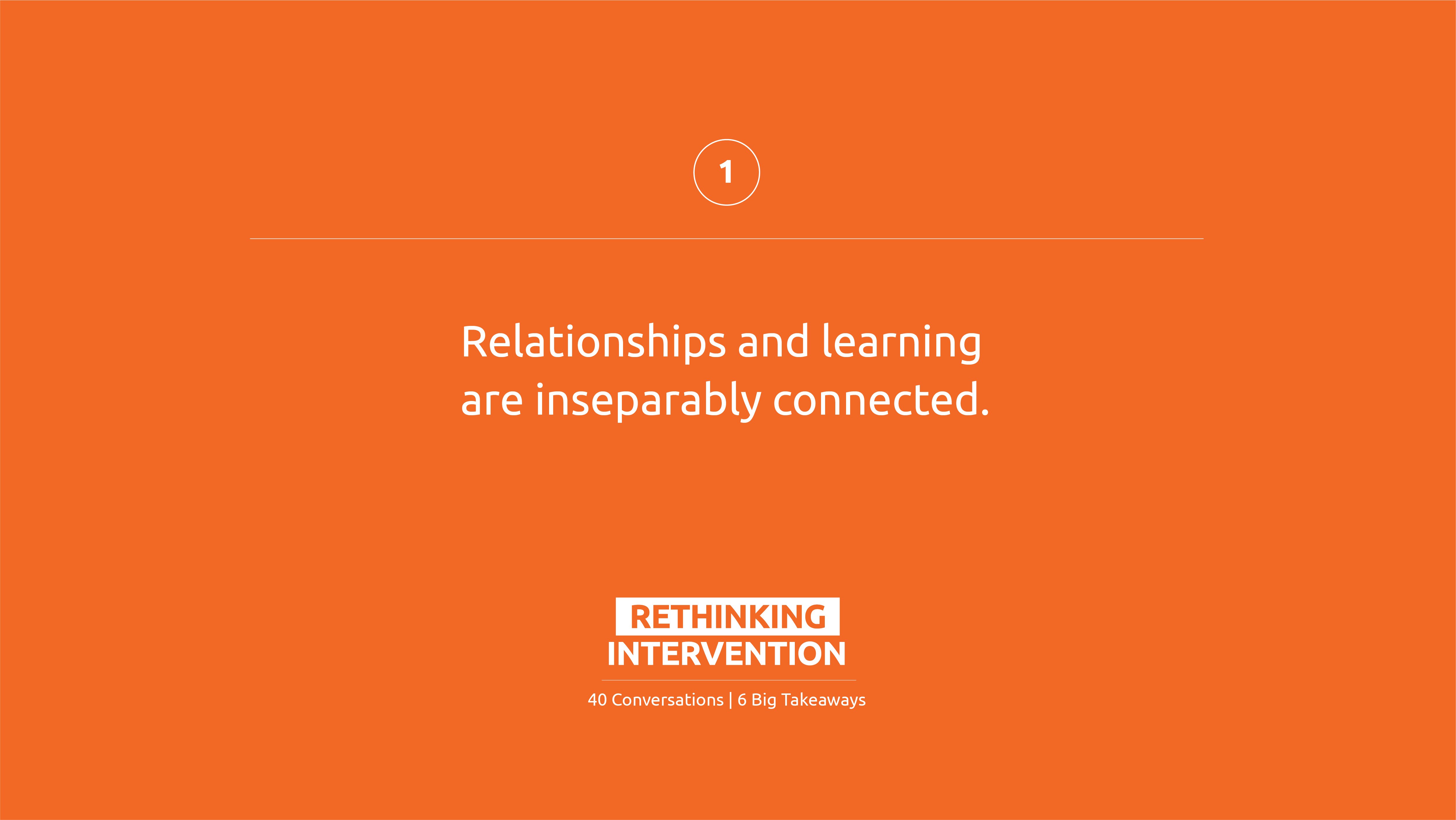 Access the Takeaway 1 PLC reflection and discussion guide.
The Rethinking Intervention project led to 40 powerful conversations around six major themes. None of the themes are surprising or new but they help bring us back to some essential educator wisdom, confirmed by research and brought to life through stories. They can inspire us to think about what it would look like to support recovery and redesign in ways that build on the best of what we know to be true.
The conversations made me reflect on how I am showing up to relationships with my team and my community. They made me remember how important it is, especially in these stressful times, to make space for those personal connections and make sure the people I work with and support have space to be seen, known, and valued.
They reminded me of the importance of every interaction. They reminded me how much we assume people should "just know" how to form meaningful relationships — and how complex it actually is. They made me think about the learning we all need to do to engage in meaningful relationships.
We can know that something is important but still not know how to make it happen. When I think about the next few years and the importance of the recovery and redesign work ahead, these conversations pointed to five ways we can use time, money, and energy to honor the interconnectedness of relationships and learning:
Ensure students and staff have access to needed mental health support.

Provide professional learning for teachers and leaders that equips them to form trusting relationships and become more conscious of the way biases affect relationships (with attention to students and families), integrating what has been traditionally siloed in SEL and academics.

Reinforce the importance of culture by creating time for educators to build relationships and culture amongst themselves. Value it for the model it creates for how to support student relationships.

Decrease counselor, family coordinator, and teacher caseloads where possible so more people are watching out for student and family needs and connection.
Here are a few resources relevant to this takeaway:
The

Well Being Index

from Turnaround for Children is a brief self-assessment designed to capture a holistic view of each student's sense of their own physical, emotional, and social health.

These

resources

from Turnaround for Children help educators support the "three Rs:" relationships, routines, and resilience.

Learning for Justice offers a

detailed look

at a trauma-informed approach to teaching during the pandemic. 

CASEL's

SEL Framework

fosters knowledge, skills, and attitudes to establish equitable learning environments that advance students' learning and development.

This

Student Experience Toolkit

from TNTP offers a library of resources designed to help educators, policymakers, and families improve students' daily experiences in school.

The

Challenging Assumptions Reflection Tool

from the Flamboyan Foundation can be used for educators to challenge themselves when biased or negative beliefs about families emerge. 

This

Beginning of the Year Relationship Building Toolkit

from the Flamboyan Foundation contains resources for fostering intentional relationships at the beginning of the school year. 

Instruction Partners'

Continuous Improvement Toolkit

offers support and

resources

for gathering and acting on data that gets at the perspectives and experiences of various stakeholders, including students, families, and staff.
What else would you add? I hope you will bring your thoughts and contributions to these questions by tagging @instructUP and using the hashtag #RethinkingIntervention.